string quartet no.3…
July 26 2020 the premiere of Ehrenfellner's new string-quartet op.50 will be given @ Festival Styriarte, in Helmut List Halle Graz. The composition refers to the Festival's poetic motto 'Geschenke der Nacht' and is dedicated to the performers of the premiere, 'Minetti Quartet' from Austria. 'Quijote's Ständchen' is the title of the piece in one movement, which hommages Hugo Wolf's sublime Italian Serenade. A 'Ständchen' might be the most intimate version of a serenade, and thus the composition is not lacking a certain grotesque contrast, when the main motive or 'character' emerges as a gigantic swagger. Less Mediterranean though, much more Viennese comes the music along in form and structure, relating to Alban Berg in the opening, and to Mahler in the closing of the story.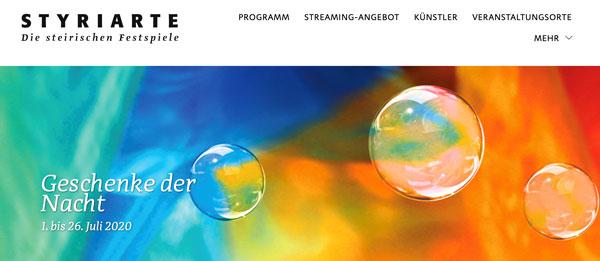 "The good animus from Attersee has been inspiration…Ehrenfellner's Symphony debut has brought the house down in Nordhausen"
Vienna and chamber music…
Chambermusic, and especially string quartet, has been a topic for Christoph Ehrenfellner from early childhood on. His studies with Gerhard Schulz, the Alban Berg Quartet and the Altenberg Trio Wien have only deepened the love for intimate musical dialogue, and the many classes he took with György Kurtág and Ferenc Rados have opened the inner gate to composing finally. Today Ehrenfellner is a sought-after partner and composer for chambermusic, starting at the Austrian Chambermusic Festivals Loisiarte, St.Gallen, Allegro Vivo, Attergau, leading into Wiener Festwochen, Carinthischer Sommer, Dialoge Salzburg and Styriarte Graz. His first stringquartet from 2009 was premiered@Zeitkunst Festival Berlin, quartet nr.2 was commissioned by Seiji Ozawa Academy Geneva 2013.
In residence…with friends
A residency brings the spotlight to a composer's universe…and the composer tunes in to a specific surrounding. The encounter with Seiji Ozawa Academy in Geneva 2013, with a crop of super-talents and with the unique Alexandra Soumm has evoqued the creation of 'La Ballade' op.24 and of 'Concerto in C' op.26, the 2nd violin-concerto, dedicated to A.Soumm. This friendship is preceded by a friendship with another Russian violinist, Sergey Malov, who gave the impuls to Violin-concerto no.1, and played the acclaimed premiere at Großes Festspielhaus Salzburg and Kioi Hall Tokyo. Together with the composer Malov premiered also quartet no.1.
The 3rd concerto 'Sospiri&Scherzi', violin-doubleconcerto op.28, celebrates another great violinist-friend, Tomo Keller, who played the premiere alongside with Sergey Malov – the composer conducted. A most special friendship with extraordinary output Ehrenfellner shares with the exceptional young Viennese-Armenian master Emmanuel Tjeknavorian. Suite des Alpes op.36 is the firm hug of a friend.