Kafkas Drama as a
chamber music theatre
The project dates from 2016 in a production of Theater Nordhausen, where young actors were staged with huge masks and black/white aesthetics onto a cut Melodram-version of Christian Fuchs with music by Christoph Ehrenfellner. A narrator then brought in Kafka's original lines between the condensed theatrical chamber musical compositions. A Trio of Piano-Violin-Clarinet was the instrumental protagonist, and outlined in grotesque augmented manièrs and bizarr romantic emotions the inner world of Kafka's Tragik family-figures. Ehrenfellner's music here dares a real transformation of Kafka's unique method of narration onto musical forms, including irony based on the Cosmos of classical music tradition.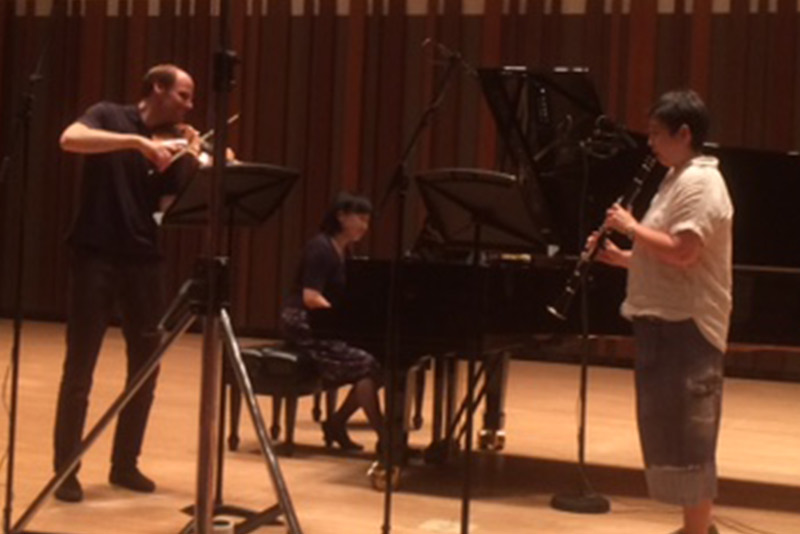 Suite op. 32b – concert music
From the very beginning of the original project it was in the concept of Christoph Ehrenfellner to make the music in parts available for concert-performances, following the exemple of Strawinski and his famous reduction of 'Historie du Soldat' for the Trio 'Clarinet-Violin-Piano'. In a set of 7 out of 13 original scenes Ehrenfellner presents a vivid landscape of Kafka's grotesque scenery. A recording of the 7 Scenes is available on YouTube and Amazon, played by the Composer and his Japanese Partners Yoko Fujii and Masako Honda. (Click the Button below to find no.7, the Finale). It's fun to listen to, fun to play, and offers a great counterpoint in a program with works like Strawinski 'Historie du Soldat' and Bartok Contrasts. The sheet music is available at Doblinger Edition Vienna.
Ehrenfellner, Fujii and Honda
The encounter with the 2 Japanese high-class musicians Yoko Fujii (former principal clarinet of the Yomiuri Orchestra) and Masako Honda (Toho Music School) has brought various fruits for Christoph Ehrenfellner. Aside to many great moments shared on stage with them, Ehrenfellner looks back on beautifully recording the Mozart&Brahms clarinet quintets for ART UNION Label in Tokyo with Yoko Fujii and the Tokyo-Wien-Quintet. Ehrenfellner's own contribution to the Clarinet-Quintet-repertoire is 'Canti di Tradimento' op.27, an Hommage to Gesualdo, which can be heard on YouTube in a live recording from the Tokyo-Wien-Quintet in 2014. (search YouTube: ehrenfellner canti di tradimento). This work is – just like the Kafka Suite op.32b – a wonderful counterpoint to programs with Mozart and Brahms Quintets for Clarinet. In addition there appeared recently a complete Beethoven Violin-Sonata Recording by Christoph Ehrenfellner and Masako Honda at ART UNION Tokyo from the years 2017-2019.